New brothread
Regular price
$65.99
Sale price
$45.99
Unit price
per
Sale
Sold out
√ Make your embroidery and quilting easier: New brothread rotating wood thread rack can rotate a full 360° smoothly without jamming. Using our rotating wood thread rack, it nicely organizes your thread spools and makes your sewing room or sewing desk to be clean and well organized. Displaying all the color assortment of your threads, you can easily see and reach each spool when making your embroidery, sewing and quilting projects.

√ Best organizer for the Color shades and widely used for small items: 84 spindles in total, each side has 21 spindles【DIY spindles hold up to 93 Spools according to service card】.You can display your thread spools in similar color shade, same spool shape, same brand, making your sewing room/desk more orderly. Except for holding thread spools, our rotating wooden rack can organize your small jewelry such as rings, necklaces, earrings, bracelets etc. It is also a great helper for hair braiding.

√ Fit with all mini king spools: We designed this rotating wooden thread rack with longer spindle (2.0inch=5.0cm) and longer center distance (1.9inch=4.8cm) between two spindles. New brothread wooden thread rack is perfectly suitable for ALL mini king spools including 500m and 1000m thread spools sold on the market.【NOT suitable for large spools!!!】

√ Premium natural wood and painted allowed: Our rotating thread rack is made of premium natural beech wood with smooth finishing, it can be DIY painted or stained to match your embroidery and sewing machines, or your sewing room and sewing desk.

√√√ Warranty and Notice: If there is any damage or breakage on the rotating thread rack during delivery, you can contact us for replacement or repairing, we will provide best customer service to you ASAP. 【NOTE: The threads on the pictures DON'T come with the wooden rack!!!】 New brothread always think what you think, do what you do, love what you love.
Share
View full details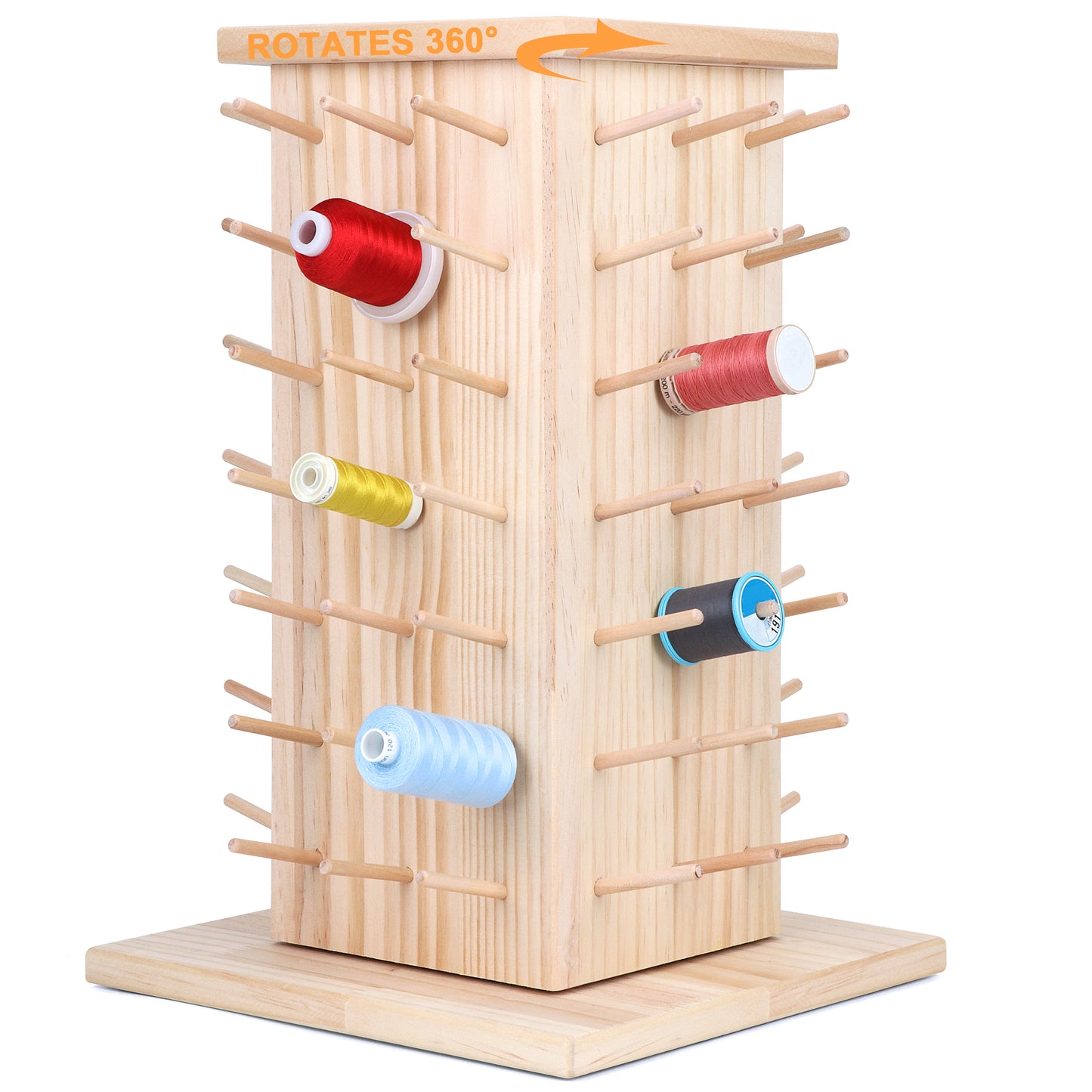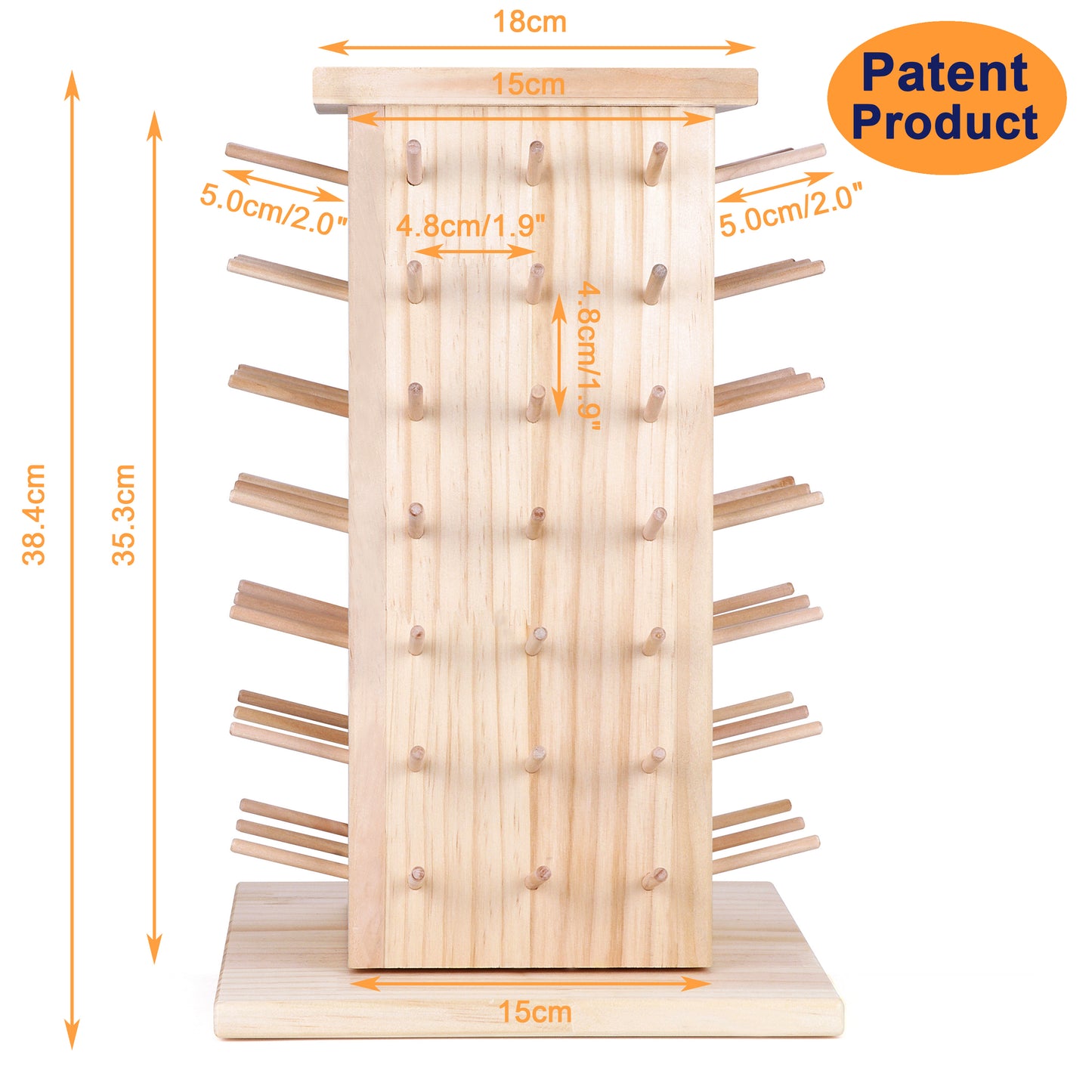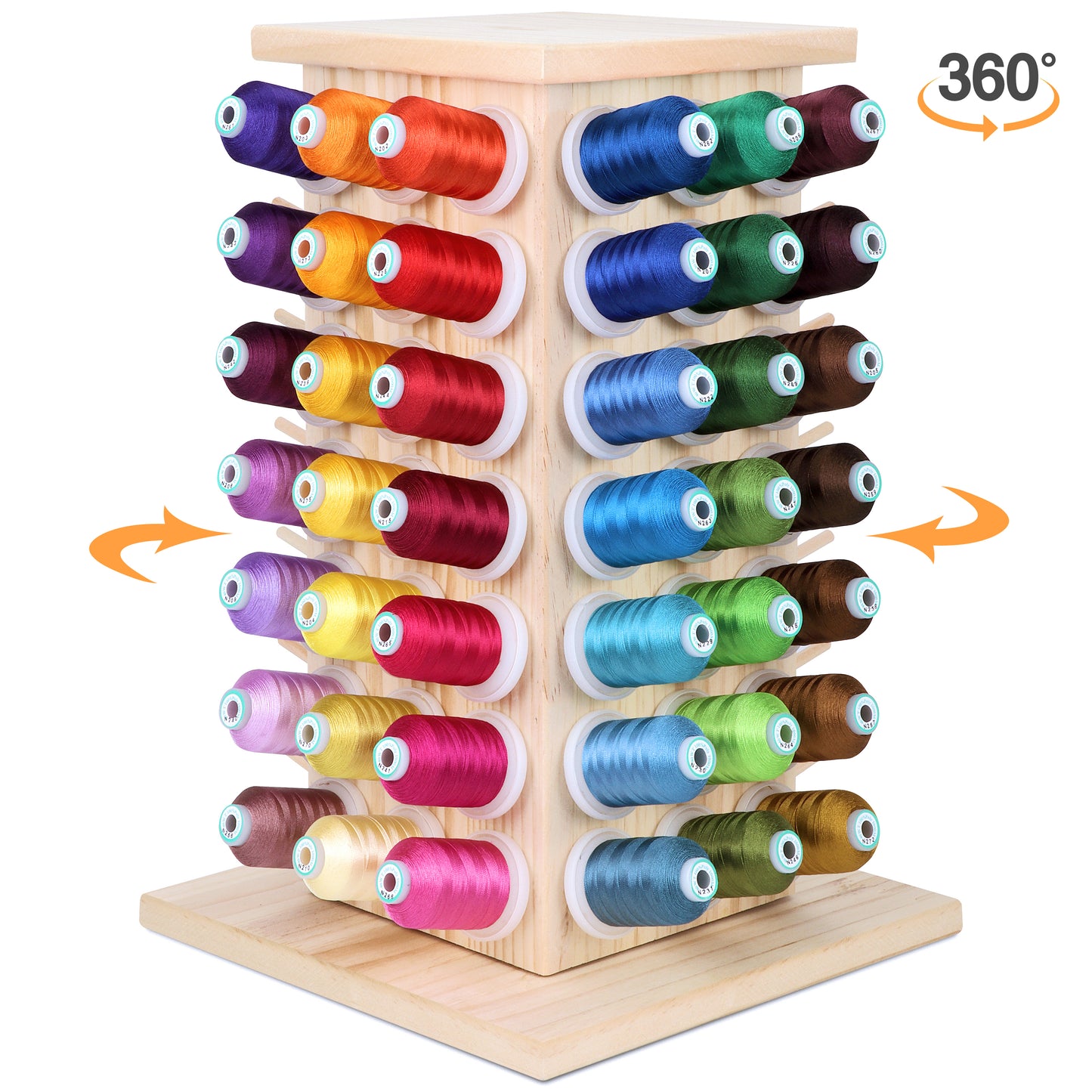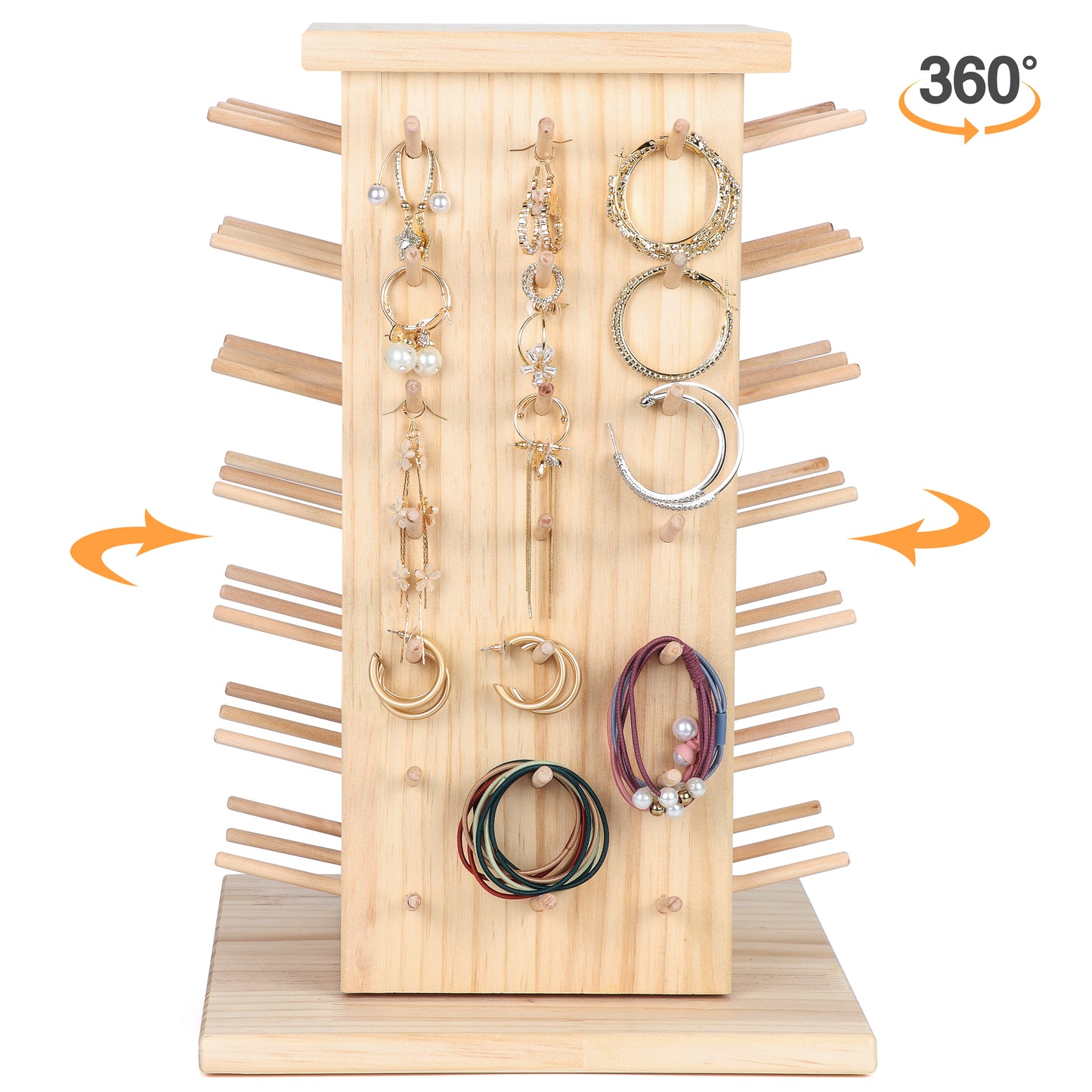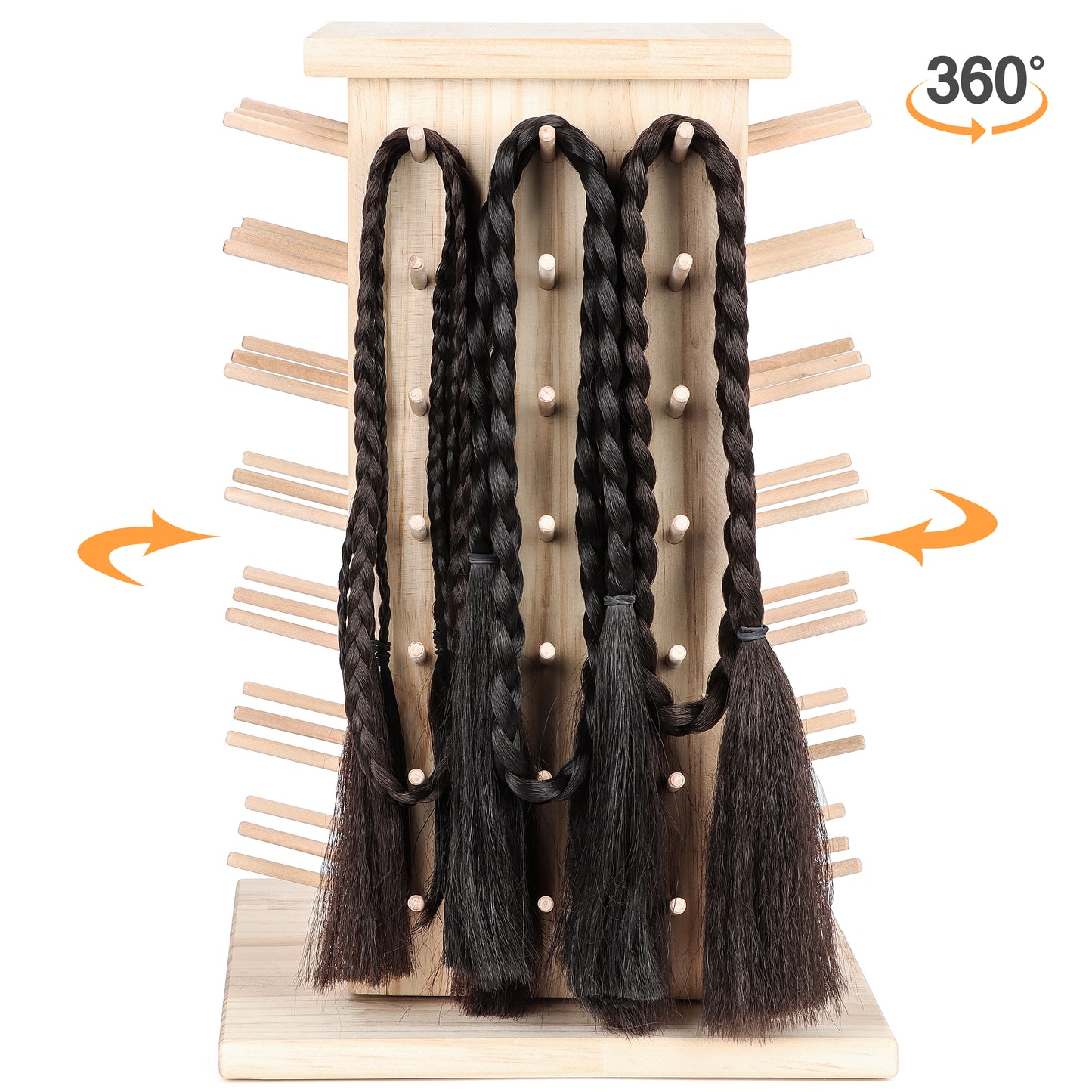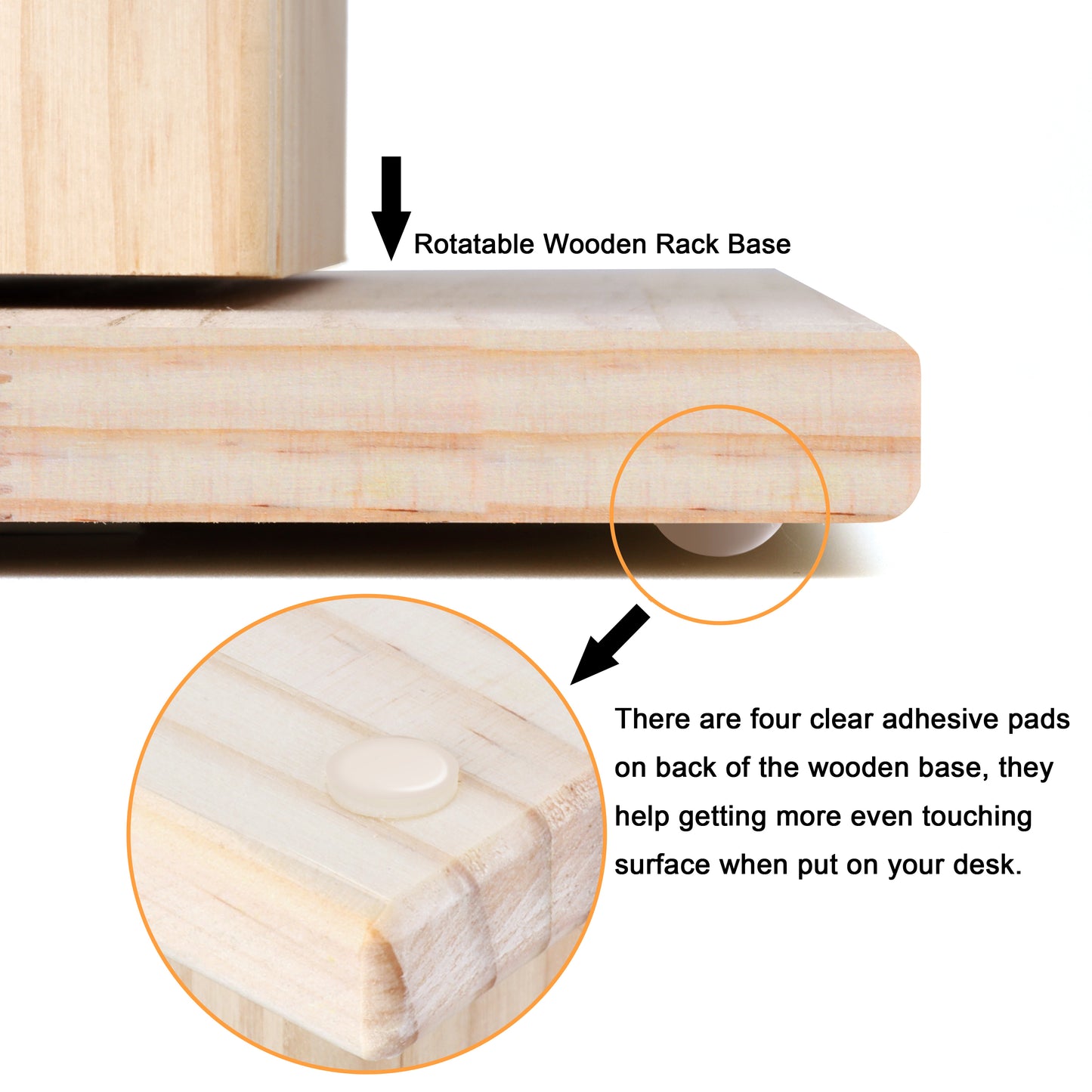 Find More Tips about Items
Download color card

New brothread 40 Brother Colors

New brothread 63 Brother Colors

New brothread 80 Janome Colors

New brothread Variegated Colors

Tips: We have two color assortments. One is from Brother color assortment, the other is from Janome color assortment. They have different color shade even they can convert with each other using conversion chart. The color with N is from Janome color assortmet, the color without N is from Brother color assortment.

Brother color assortment:

New brothread 40/63 Brother Colors 500M

New brothread 42/64 Brother Colors 500M

New brothread 40/60 Brother Colors 500M with Box

New brothread 40/60 Brother Colors 500M with Box

New brothread 50 Spools 500M

Janome color assortment: 

New brothread 80/30 Janome Colors 500M

New brothread 80/32 Janome Colors 1000M

If you need conversion chart for Janome Color and Brother Color, Please feel free to contact us by email, we will send to you ASAP.
How to choose embroidery stabilizers
Which embroidery machine hoop fit into my machine

New brothread Embroidery Machine Hoop 3 in 1 Set (SA431+SA432+SA434)

Brother Innovis 990D/955/950D/900D/500D/97E/95E/90E

Brother Innovis NS1750D/NV180/M280D/M240ED/M230E

Brother LB7000/7000BNDL/7000PRW/6800/6800PRW/6800THRD/6770/6770PRW/5000/Brother LB6950

Brother SE625/600/425/400/350/270D/SE 630

Brother PE550D/540D/535/525/500/400D/300S

Brother SB7500/7050E HE240/120/1

Baby Lock Verve/Sofia 2

 

New brothread Embroidery Machine Hoop 4 in 1 Set (SA442+SA443+SA444+SA445)

Brother PE810L/800/780D/770/750D/700/700II

Brother Innovis NS2750D/NS1150E/1250D/1200/1000/780D/750E/700Ell/700E/innovis F480

Brother SE1900/1800

Baby Lock Accord/Emore/Ellure Plus

 

New brothread Embroidery Machine Hoop 4 in 1 Set (SA437+SA438+SA439+SA441)

Brother Innovis VE2300/VE2200/VM6200D/5200/5100

Brother Innovis 6750D/6700D/6000D/5000/4750D/4500D/4000D/4000/2800D/2500D/1500D/1500

Brother Innovis NQ3600D/3500D/1600E/1400E/NQ1700

Brother Innovis NV2650D/NV2600/NV870SE/NV800E/Brother Innovis NV2700

Brother Innovis XP2/1 XV/8550D/8500D

Brother Innovis BP3500D/2100/1400E

Brother Innovis Ie/I/V7/V5/V5LE/V3

Baby Lock Aerial/Aventura/Aventura II/Altair/Destiny/Destiny II

Baby Lock Ellageo Plus/Ellegante/Ellegante II/Ellegante 3/Ellisimo/Ellisimo Gold/Esante

Baby Lock Flare/Flourish/Flourish II

Baby Lock Journey/Meridian/Pathfinder/Solaris/Solaris 2/Spirit

Baby Lock Unity/Vesta
Know better about bobbins

Difference Between Size A bobbins and Size L bobbins

The only difference between Size A bobbins and Size L bobbins is the height.

The height of Size A bobbins is 11.4mm/0.448";The height of Size L bobbins is 8.9mm/0.315". Both bobbins have the same diameter, but size A bobbin is a little taller than size L bobbin.

Size A is used by most sewing machines. If your machine makes regular sewing and also you can do computerized embroidery is very portable that your machine use this type of bobbin.

Size L is the most common embroidery bobbin for commercial and home based embroidery machine.

If you don't know which bobbin your machine needs, please feel free to check with us!