New brothread
Regular price
Sale price
$28.99
Unit price
per
Sale
Sold out
★30 SIMILAR WITH JANOME AND RA COLORS INCLUDING 2 SPOOLS WHITE+2 SPOOLS BLACK - 32 spools great assorted bright and beautiful colors Polyester Embroidery Machine Thread to brighten and beautify all sort of your embroidery projects. Using Color Chart to find similar with Janome Color No. and name, Conversion Chart of Robison-Anton Colors is also available.

★Each spool of our polyester embroidery machine thread is 40W.T. and 1000M (1100Y) Length. A great valuable thread kit for professional embroidery lovers or novice.

★1000M (1100Y) LARGE SPOOLS -SPOOL WITH LOCKING BASE RESISTS THREAD TANGLING - Our new generation snapping spool has a locking base, which is specially designed for keeping your thread tails from unwinding. So, thread spools huggers or thread nets are no longer needed for holding your embroidery machine threads tails.

★100% POLYESTER MATERIAL - Color Fast, High Strength and Exceptional Lustre, all these Excellent Characters are based on the material of our embroidery machine thread: 100% Polyester!!!

★★New Brothread 1000M (1100Y) Polyester Embroidery Machine Thread is perfectly compatible for Brother Babylock Janome Singer Pfaff Husqvarna Bernina Embroidery and Sewing Machines.▶▶【MAKE SURE BUYING THROUGH "New Brothread" (Sold by) for original WARRANTY!!!】
Share
View full details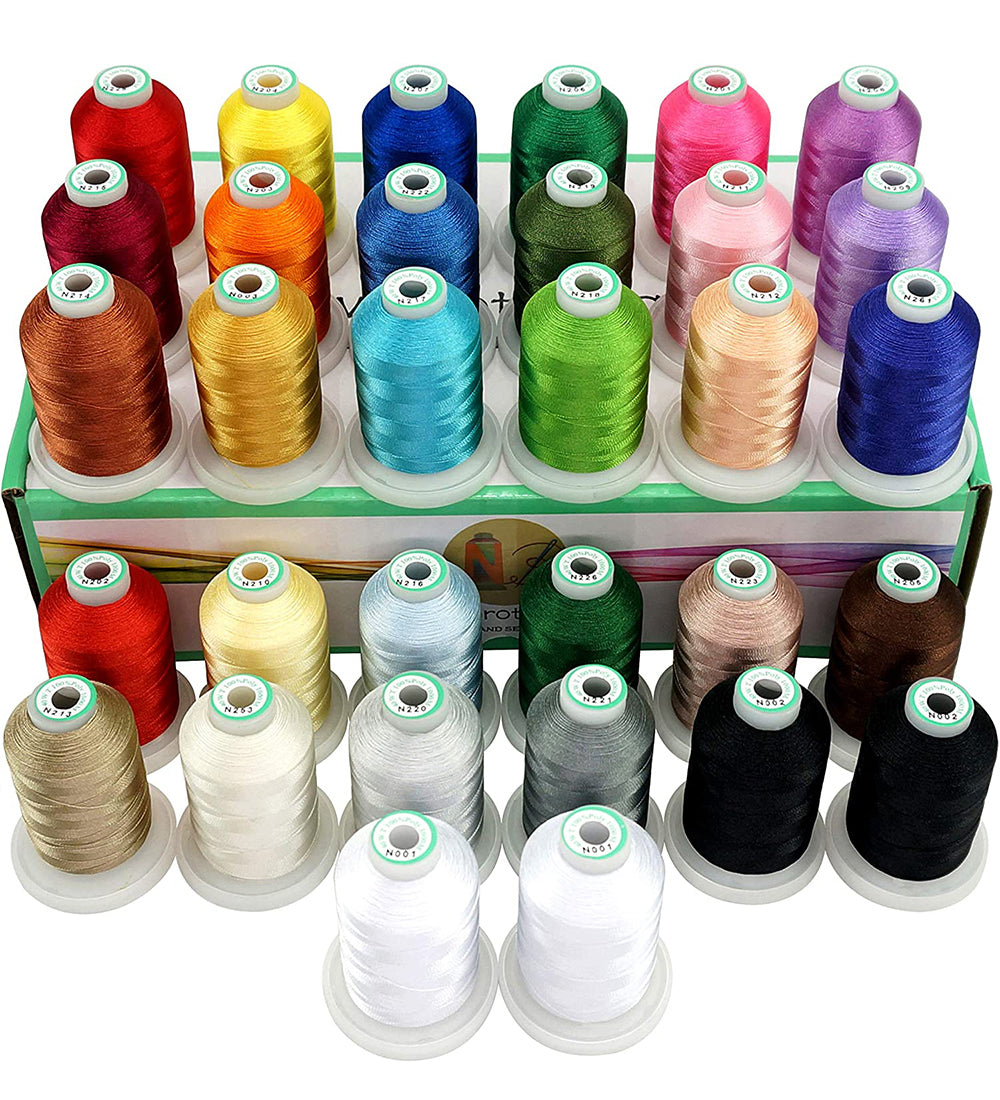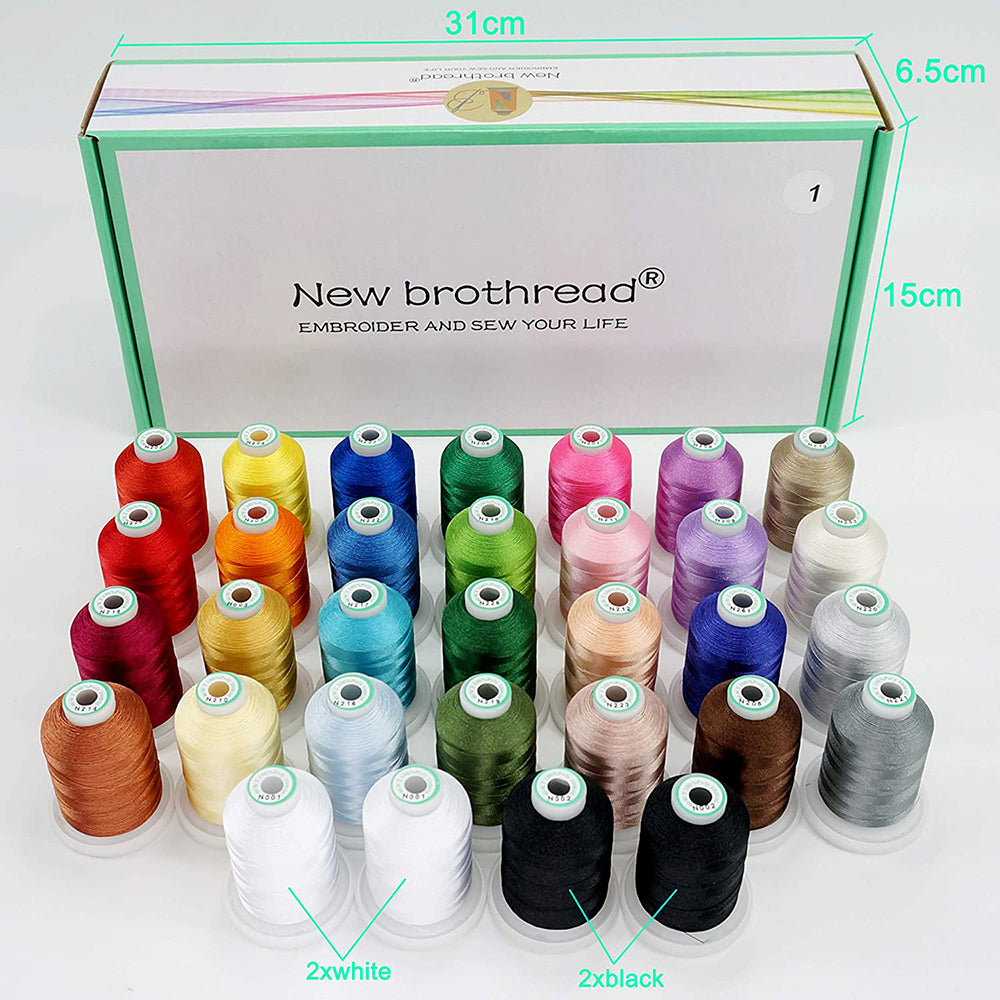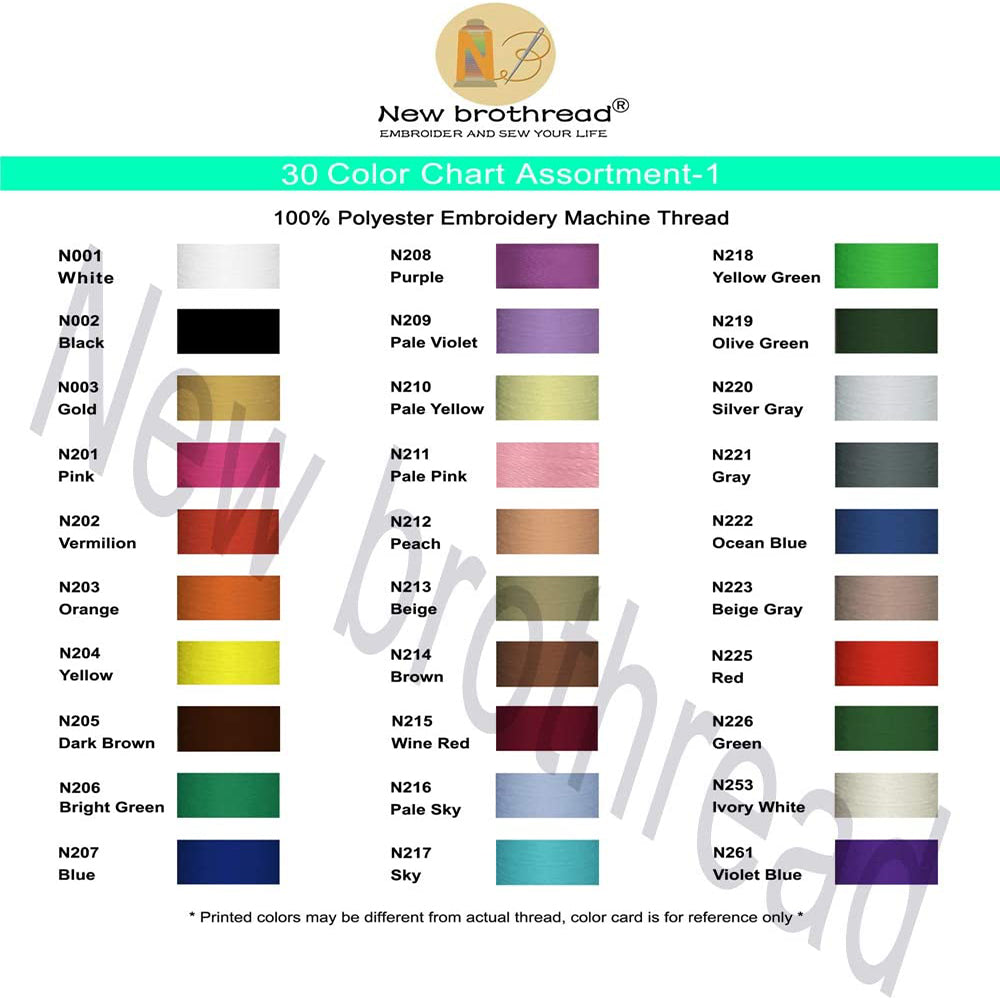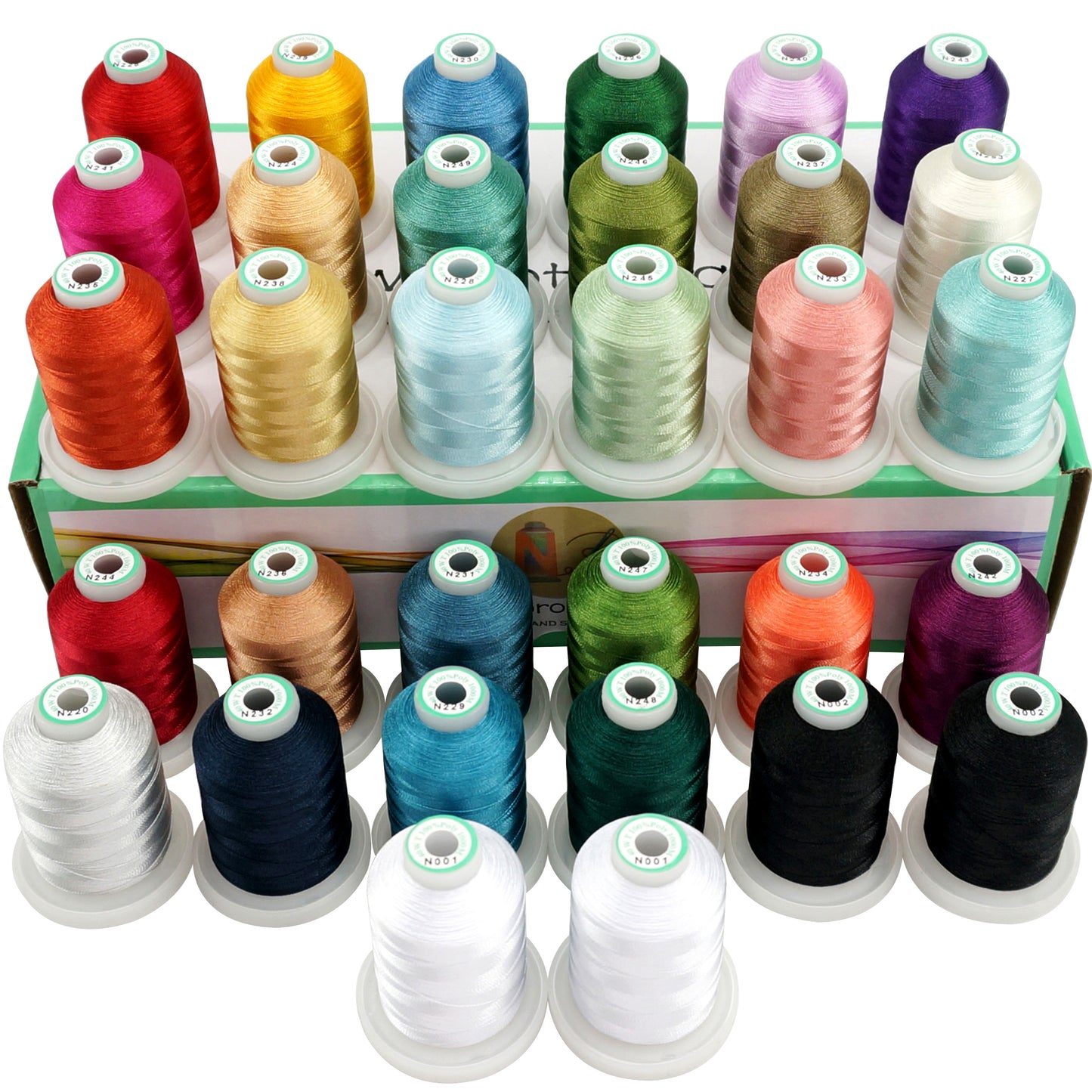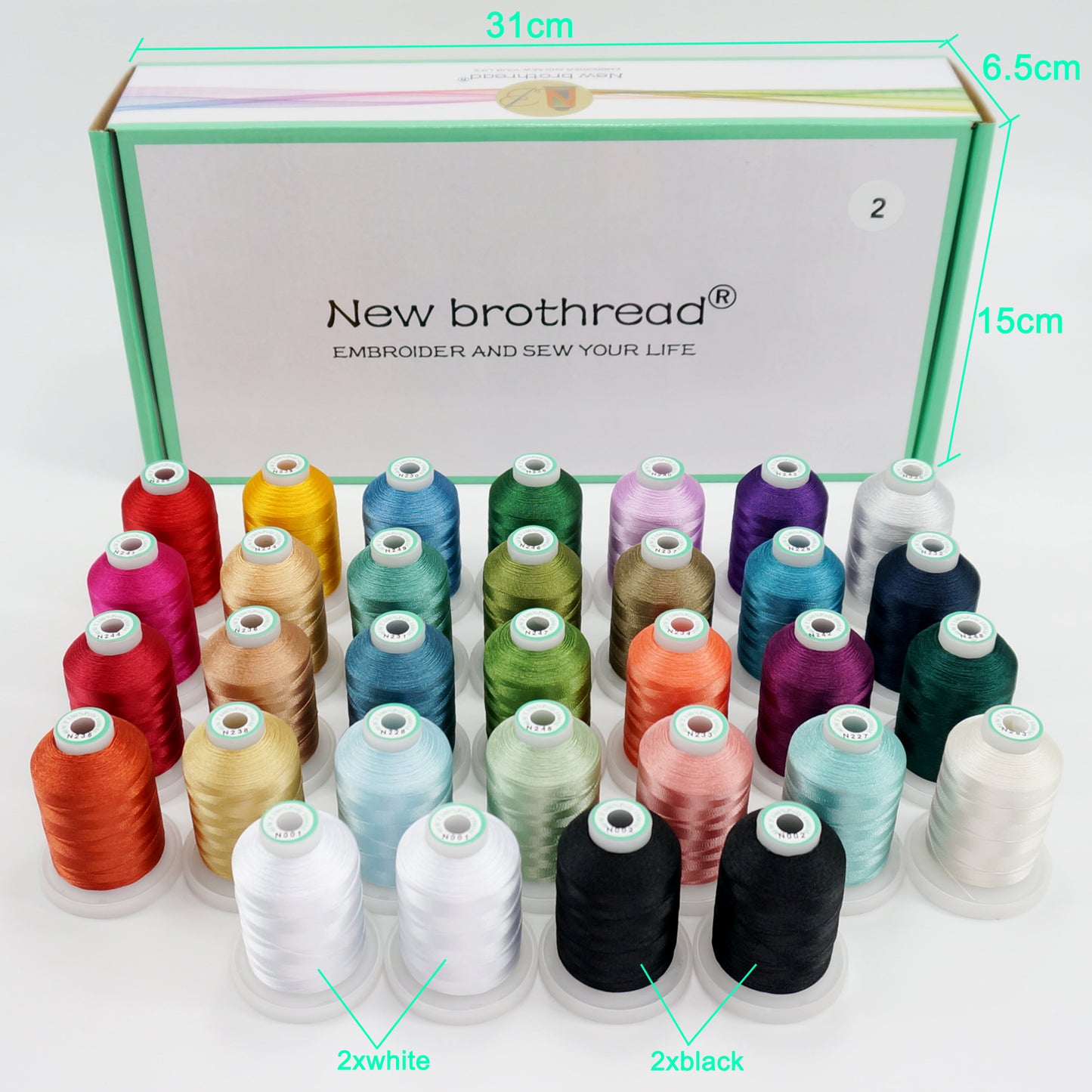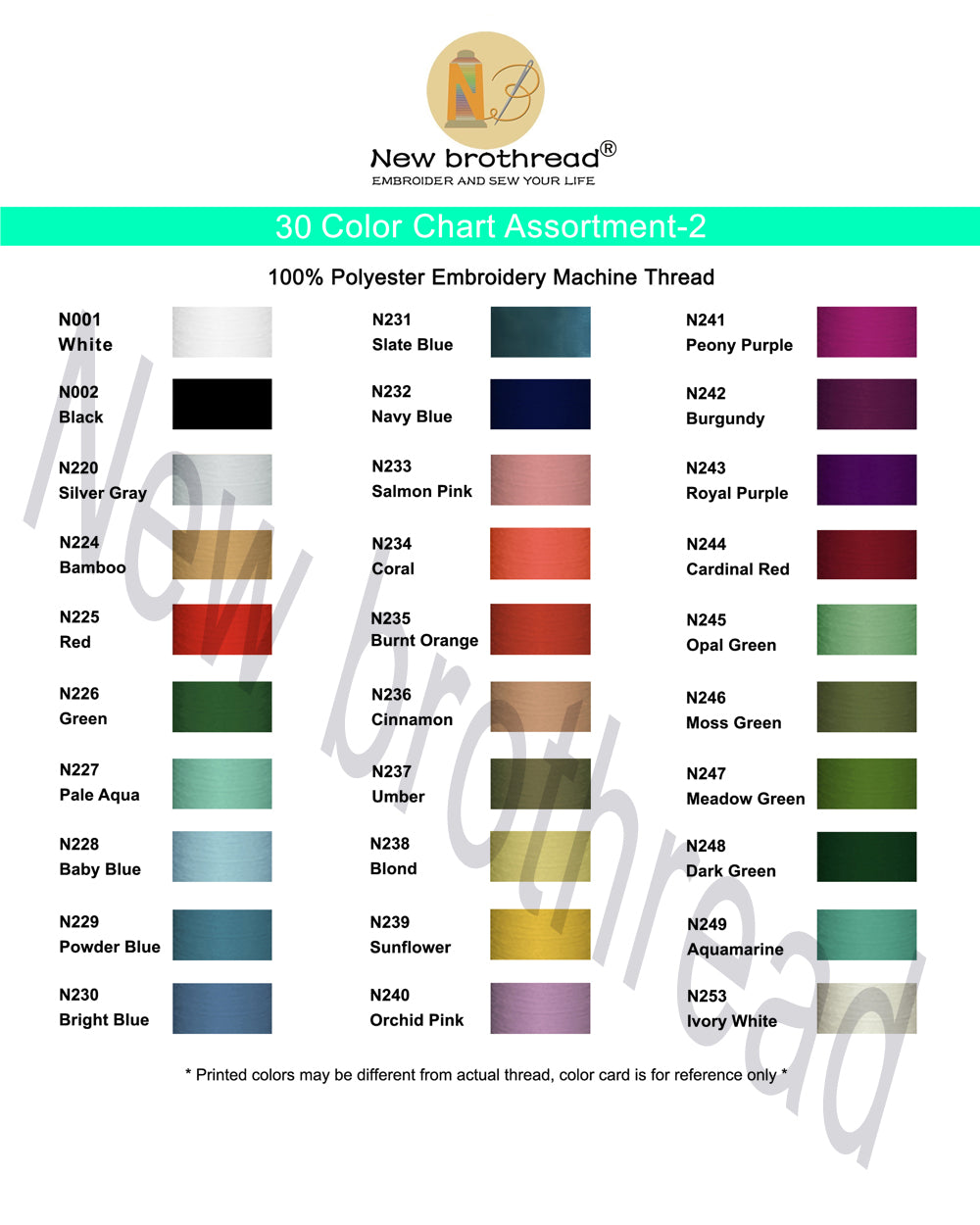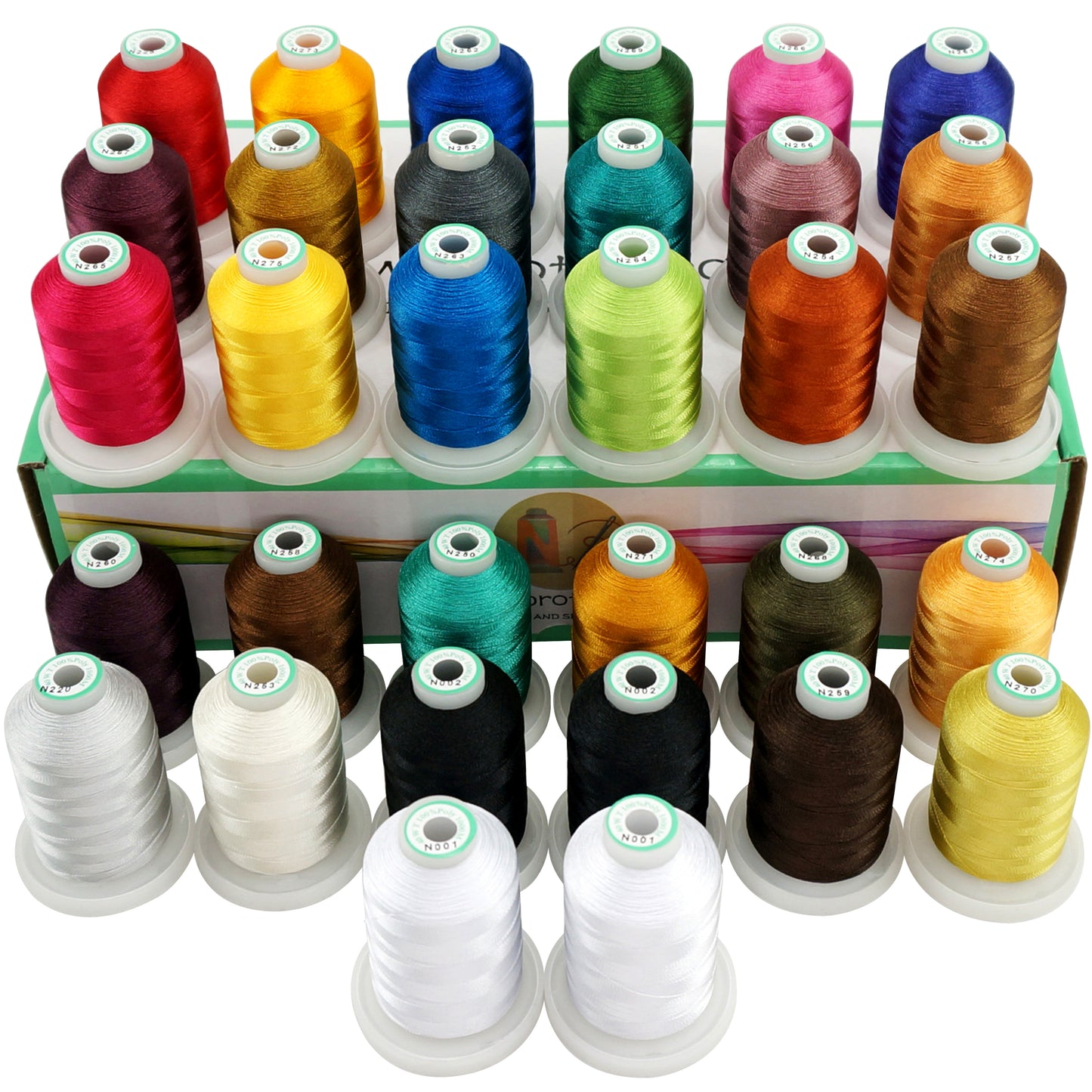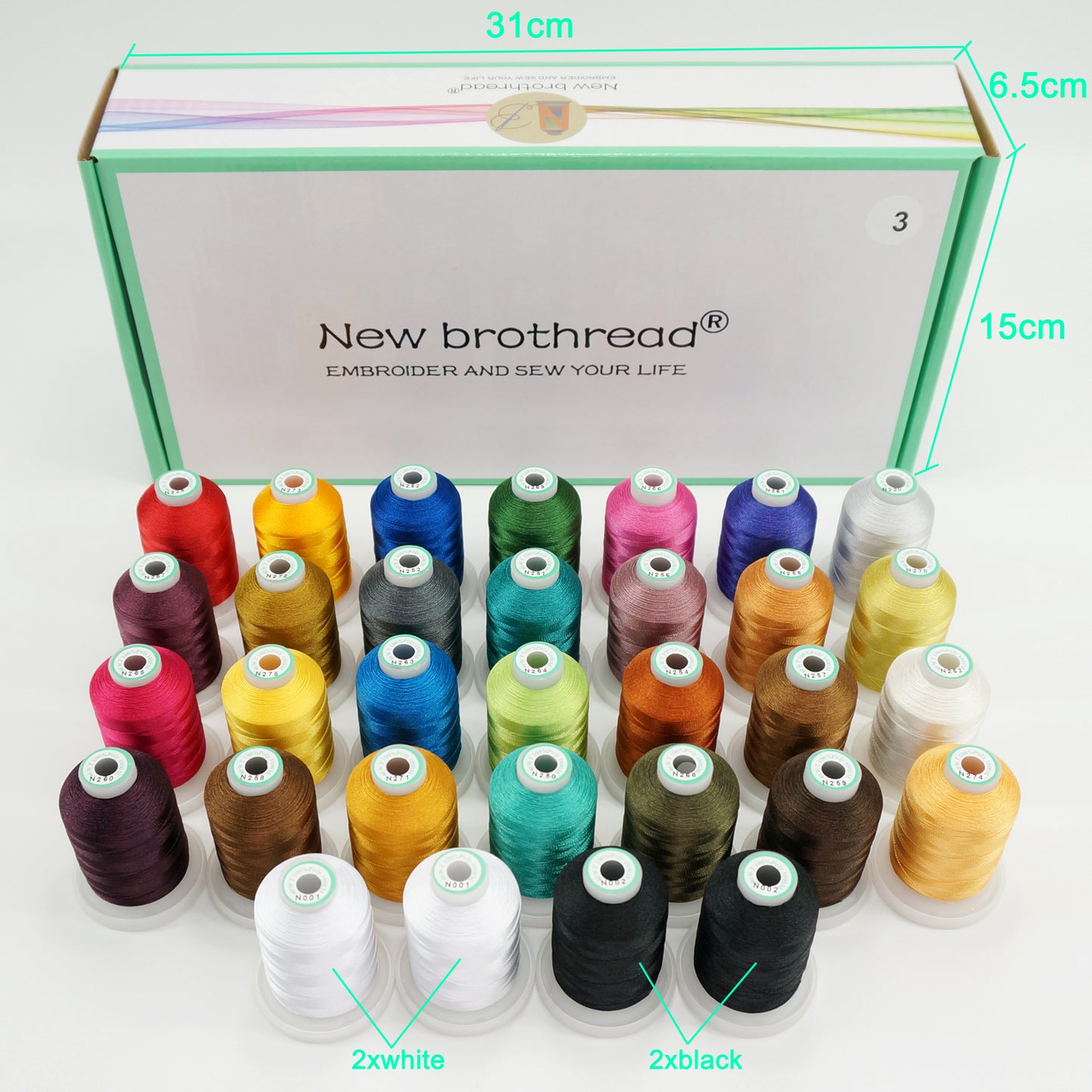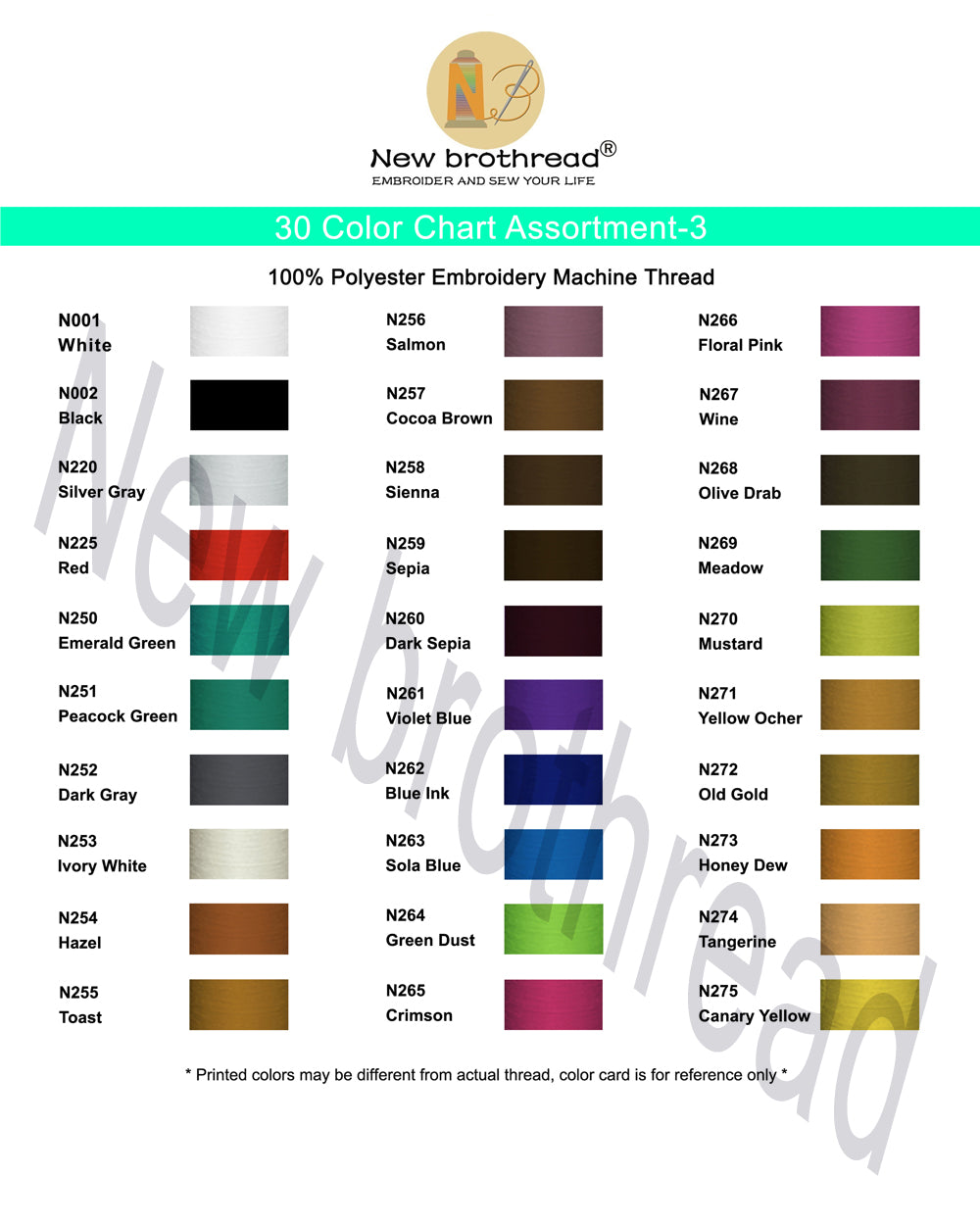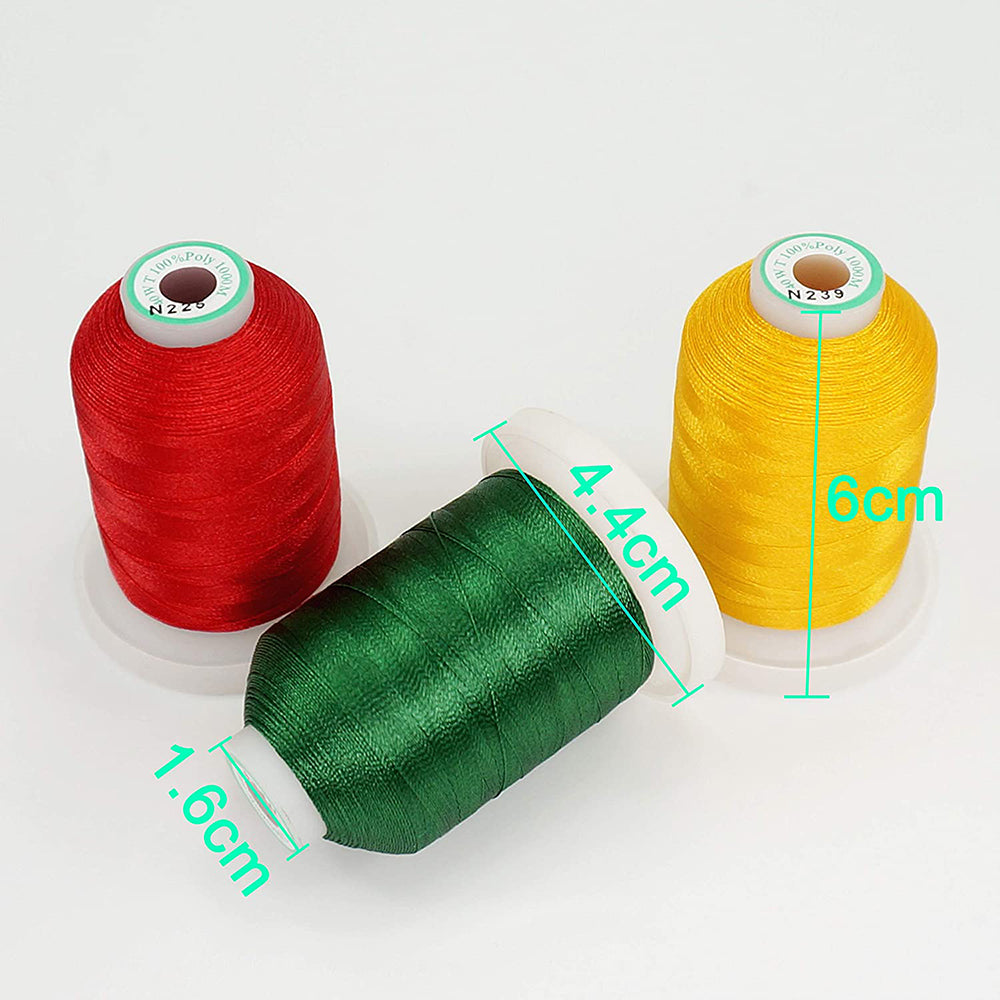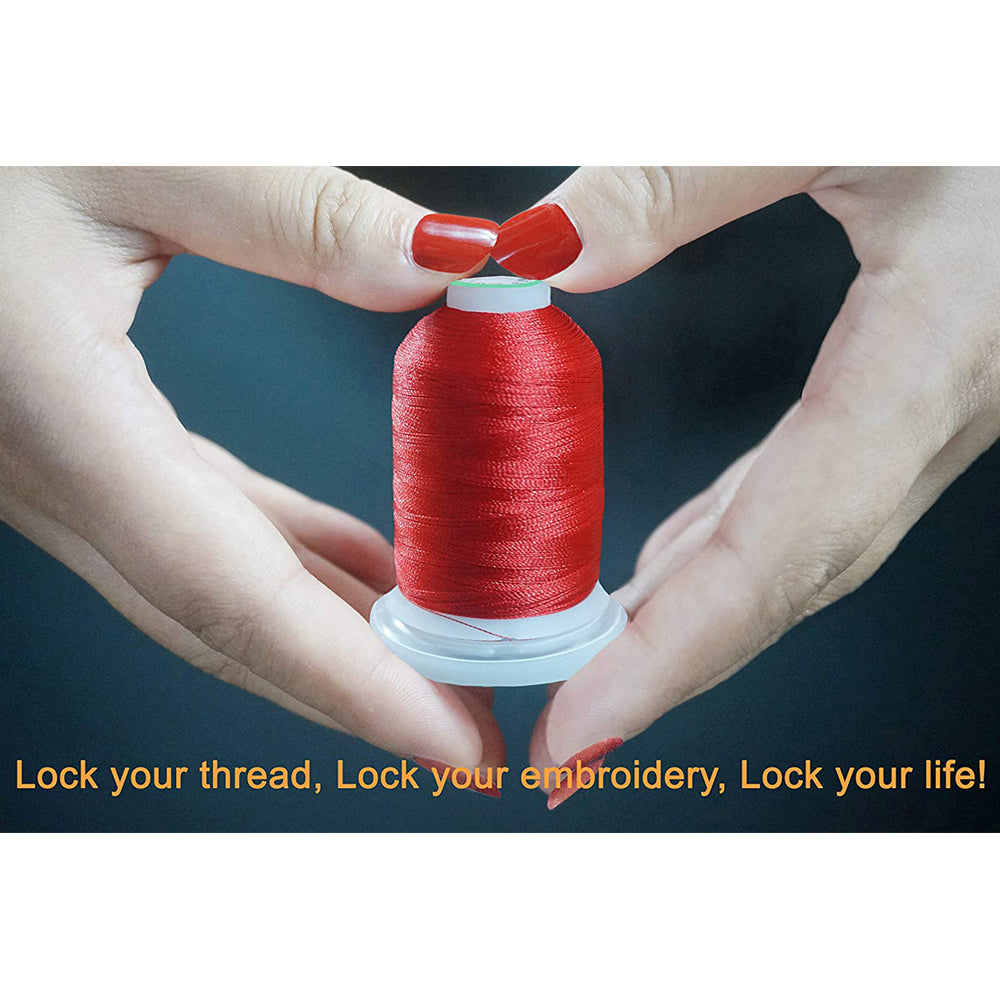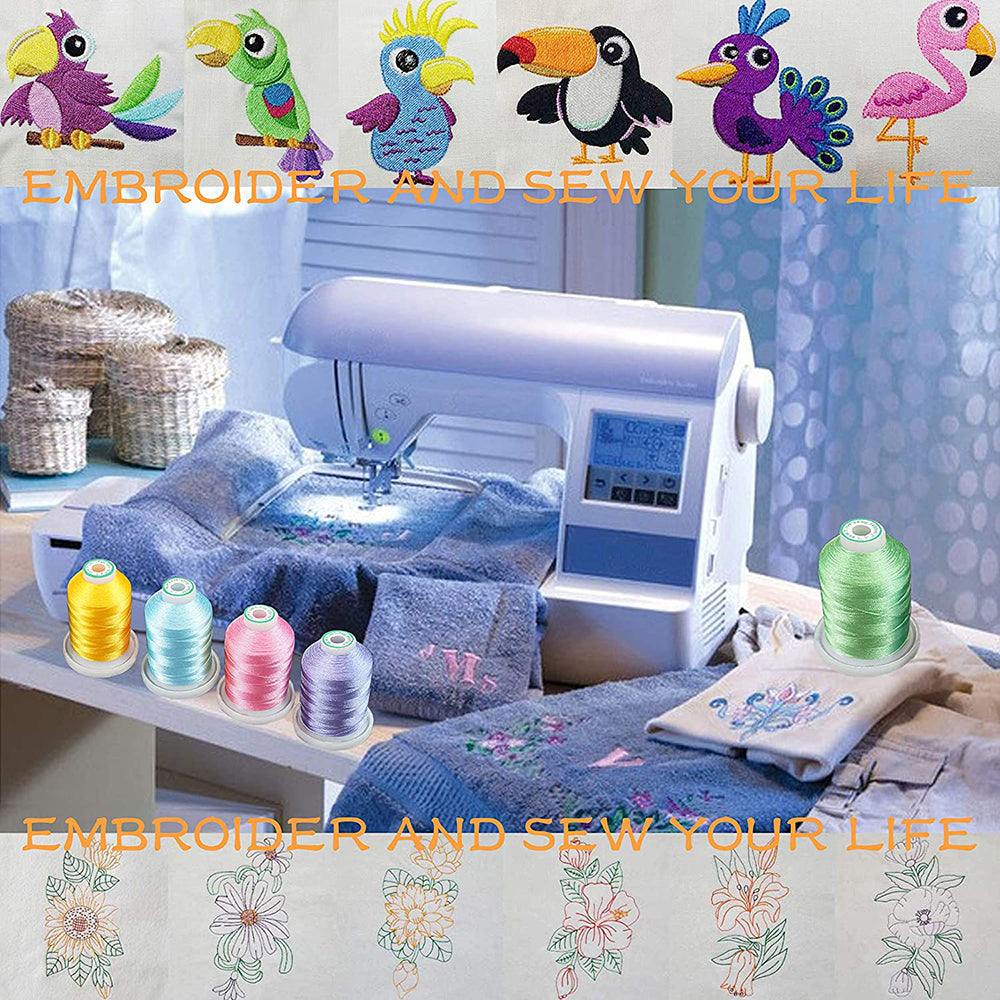 Find More Tips about Items
Download color card

New brothread 40 Brother Colors

New brothread 63 Brother Colors

New brothread 80 Janome Colors

New brothread Variegated Colors

Tips: We have two color assortments. One is from Brother color assortment, the other is from Janome color assortment. They have different color shade even they can convert with each other using conversion chart. The color with N is from Janome color assortmet, the color without N is from Brother color assortment.

Brother color assortment:

New brothread 40/63 Brother Colors 500M

New brothread 42/64 Brother Colors 500M

New brothread 40/60 Brother Colors 500M with Box

New brothread 40/60 Brother Colors 500M with Box

New brothread 50 Spools 500M

Janome color assortment: 

New brothread 80/30 Janome Colors 500M

New brothread 80/32 Janome Colors 1000M

If you need conversion chart for Janome Color and Brother Color, Please feel free to contact us by email, we will send to you ASAP.
How to choose embroidery stabilizers
Which embroidery machine hoop fit into my machine

New brothread Embroidery Machine Hoop 3 in 1 Set (SA431+SA432+SA434)

Brother Innovis 990D/955/950D/900D/500D/97E/95E/90E

Brother Innovis NS1750D/NV180/M280D/M240ED/M230E

Brother LB7000/7000BNDL/7000PRW/6800/6800PRW/6800THRD/6770/6770PRW/5000/Brother LB6950

Brother SE625/600/425/400/350/270D/SE 630

Brother PE550D/540D/535/525/500/400D/300S

Brother SB7500/7050E HE240/120/1

Baby Lock Verve/Sofia 2

 

New brothread Embroidery Machine Hoop 4 in 1 Set (SA442+SA443+SA444+SA445)

Brother PE810L/800/780D/770/750D/700/700II

Brother Innovis NS2750D/NS1150E/1250D/1200/1000/780D/750E/700Ell/700E/innovis F480

Brother SE1900/1800

Baby Lock Accord/Emore/Ellure Plus

 

New brothread Embroidery Machine Hoop 4 in 1 Set (SA437+SA438+SA439+SA441)

Brother Innovis VE2300/VE2200/VM6200D/5200/5100

Brother Innovis 6750D/6700D/6000D/5000/4750D/4500D/4000D/4000/2800D/2500D/1500D/1500

Brother Innovis NQ3600D/3500D/1600E/1400E/NQ1700

Brother Innovis NV2650D/NV2600/NV870SE/NV800E/Brother Innovis NV2700

Brother Innovis XP2/1 XV/8550D/8500D

Brother Innovis BP3500D/2100/1400E

Brother Innovis Ie/I/V7/V5/V5LE/V3

Baby Lock Aerial/Aventura/Aventura II/Altair/Destiny/Destiny II

Baby Lock Ellageo Plus/Ellegante/Ellegante II/Ellegante 3/Ellisimo/Ellisimo Gold/Esante

Baby Lock Flare/Flourish/Flourish II

Baby Lock Journey/Meridian/Pathfinder/Solaris/Solaris 2/Spirit

Baby Lock Unity/Vesta
Know better about bobbins

Difference Between Size A bobbins and Size L bobbins

The only difference between Size A bobbins and Size L bobbins is the height.

The height of Size A bobbins is 11.4mm/0.448";The height of Size L bobbins is 8.9mm/0.315". Both bobbins have the same diameter, but size A bobbin is a little taller than size L bobbin.

Size A is used by most sewing machines. If your machine makes regular sewing and also you can do computerized embroidery is very portable that your machine use this type of bobbin.

Size L is the most common embroidery bobbin for commercial and home based embroidery machine.

If you don't know which bobbin your machine needs, please feel free to check with us!